Exhibition: Apprenticeship among arts - Sorin Costina collector, 2017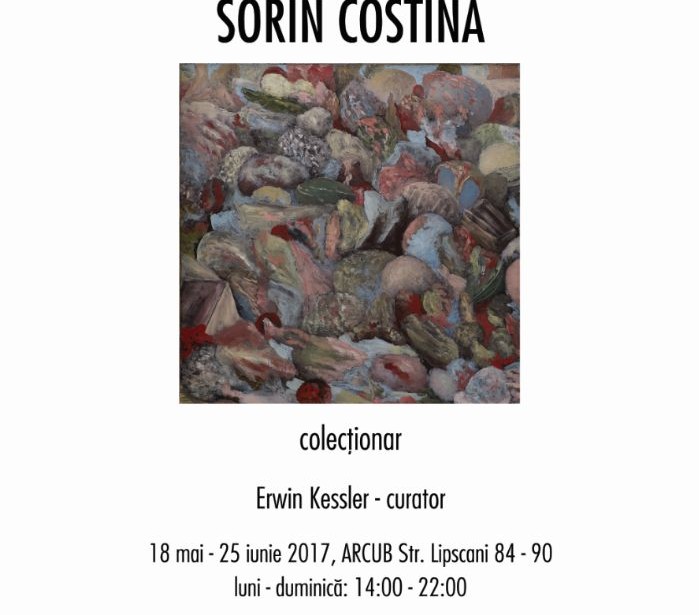 Between 18 and 25 May 2017, the exhibition "Ucenicie printre arte: Sorin Costina colecționar" (Apprenticeship among arts: Sorin Costina collector) was held in Bucharest. The event was organised by the public cultural service ARCUB – the Cultural Centre of the City of Bucharest, which provided free public access to the exhibition. Among the artists whose works were on display were Corneliu Baba, Horia Bernea, Ștefan Bertalan, Paul Gherasim, Ion Grigorescu, Florin Mitroi, Paul Neagu, Florin Niculiu, Ion Dumitriu, Constantin Flondor, and Sorin Dumitrescu.
"Bringing together over forty of the most significant paintings in the Sorin Costina collection, the ARCUB exhibition is the first and most extensive presentation both of the diversity and scope of the collection and of its significance as a central landmark in what has, in time, proved to have become the canon of Romanian art of the 1970s to 1990s. The exhibition is thus the occasion not only for an overview of this canon, but also for lucid and critical investigation of the beliefs and aspirations, but also the practices, the clichés and stylistic and ideological hybridisations that marked Romania art in that troubled period of the last decades of the second millennium." So states the official catalogue of this exhibition, which in the first half of 2017 was one of the cultural events of greatest resonance in the Romanian capital. With regard to the entire collection, the catalogue continues: "The man Sorin Costina and the distinctive history of Romanian culture and society in the second half of the twentieth century have caused the appearance in the most atypical place possible of the most typical collection of Romanian postwar art, in which all the key names of Romanian visual culture are to be found, with exceptional pieces. The Sorin Costina collection is a compendium of contemporary Romanian art. A certain part of Romanian art, after the 1960s."
Strona internetowa
Początkowy rok wydarzenia
Główni aktorzy
Autorzy tej strony
Petrescu, Cristina
Pătrăşconiu, Cristian Valeriu
Wydarzenie z
Lista przypisów
Kessler, Erwin. 2017. Sorin Costina: Ucenicie printre arte (Sorin Costina: Apprenticeship among arts). Bucharest: Vellant.
Costina, Sorin, interview by Pătrăşconiu, Cristian Valeriu , August 10, 2018. COURAGE Registry Oral History Collection
2018-10-28 10:45:28