Miočinović, Mirjana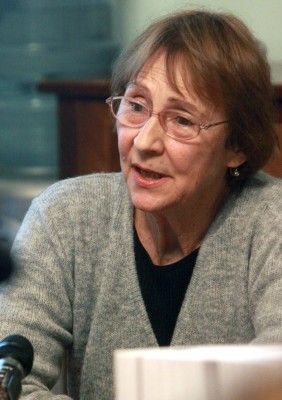 Mirjana Miočinović (Belgrade, 1935) is a theatre expert and translator and was married to Danilo Kiš from 1961 to 1981. Mirjana Miočinović worked and taught at the Faculty for Theatre in Belgrade until 1991, when she left to protest the outbreak of war. She has published numerous books, including Essays about Drama [Eseji o drami] (1975), The Birth of Modern Literature - Drama [Rađanje moderne književnosti – Drama] (1975), The Raw Theatre – Origin, experiments and Artoov's synthesis [Surovo pozorište, poreklo, eksperimenti i Artoova sinteza] (1976), The modern theory of drama [Moderna teorija drame](1981), Theater and the guillotine [Pozorište i giljotina] (1990), and The apparent powerlessness [Nemoć očiglednog] (1997).

Miočinović has translated numerous texts from French into Serbian (Lautréamond, A. Artaud, G. Genette, A. Ubersfeld, F. Dupont, J.-P. Sarrazac and others). She received the Theatre Studies Award from the Sterijno Theater Festival in Novi Sad in 1991 and the Special Merit Award from the same festival in 2005. In 2011, the Theatre Museum of Vojvodina granted her the Laurel Wreath Award for her lifelong contribution to drama.

Asked about cultural opposition in Yugoslavia by COURAGE, Miočinović maintained: "We lived in a system that did not force you to be part of it. [...] Since the break with Stalin, there have not been norms that you had to hold on. No form, neither content was imposed or prescribed for an artist to be articulated in his art." This all led to a major change in culture in the 1960s. "Those years were years of blossoming, it was a real boom. This created such a gifted generation of creative people." The situation changed in the 1970s when the freedom of action characteristic to the decades before significantly was reduced.

Mirjana Miočinović edited the Collected Works of Danilo Kiš. She also helped assemble the Danilo Kiš CD which contains digital copies of much of his life's work.
Miejsce urodzenia
Beograd, Belgrade, Serbia
Role osób zaangażowanych w kolekcje
2017-11-29 14:50:24